The library has a glass display case that can be used for small exhibits, as well as wall space in the library's Meeting Room.
Exhibits Policy and Procedures
The library's exhibit space(s), when available, may be used by community based individuals and organizations to display materials of an educational, cultural, social, intellectual or charitable nature.
In accordance with the American Library Association's Library Bill of Rights and its interpretation pertaining to exhibit spaces, the library neither endorses nor advocates the viewpoints of exhibits or exhibitors. Those who object to the content of any exhibit may submit their own exhibit in accordance with this Exhibit Policy.
1. Exhibits may be displayed for up to four weeks at the discretion of the Library Director.
2. The exhibitor is responsible for both setting up and removing display. The library is not responsible for loss or damage of any item on display.
3. The Library reserves the right to remove or refuse any material judged unsuitable.
4. Exhibitor agrees to refrain from commercial advertisement. Prices of items for sale may not be posted. Items sold during the display period may not be removed before the end of the exhibition.
5. An individual or organization is limited to one exhibit per calendar year. Exceptions may be approved at the discretion of the Library Director.
6. The following disclaimer must be posted at any exhibit not sponsored by the library: "The Library has made this space available as a courtesy to _________________. The materials on display represent the views of the exhibitor. The library does not advocate or endorse the viewpoint of exhibits or exhibitors."
If you are interested in displaying materials at the library, please email Library Director Jenn Bruneau (jbruneau@town.northborough.ma.us) with your name, contact information, a description of the materials you want to display, and photos of the materials you wish to exhibit.
---
June Exhibit
David O'Toole
Contemporary Abstracts
Opening Reception: June 2nd 3pm-5pm
Library Meeting Room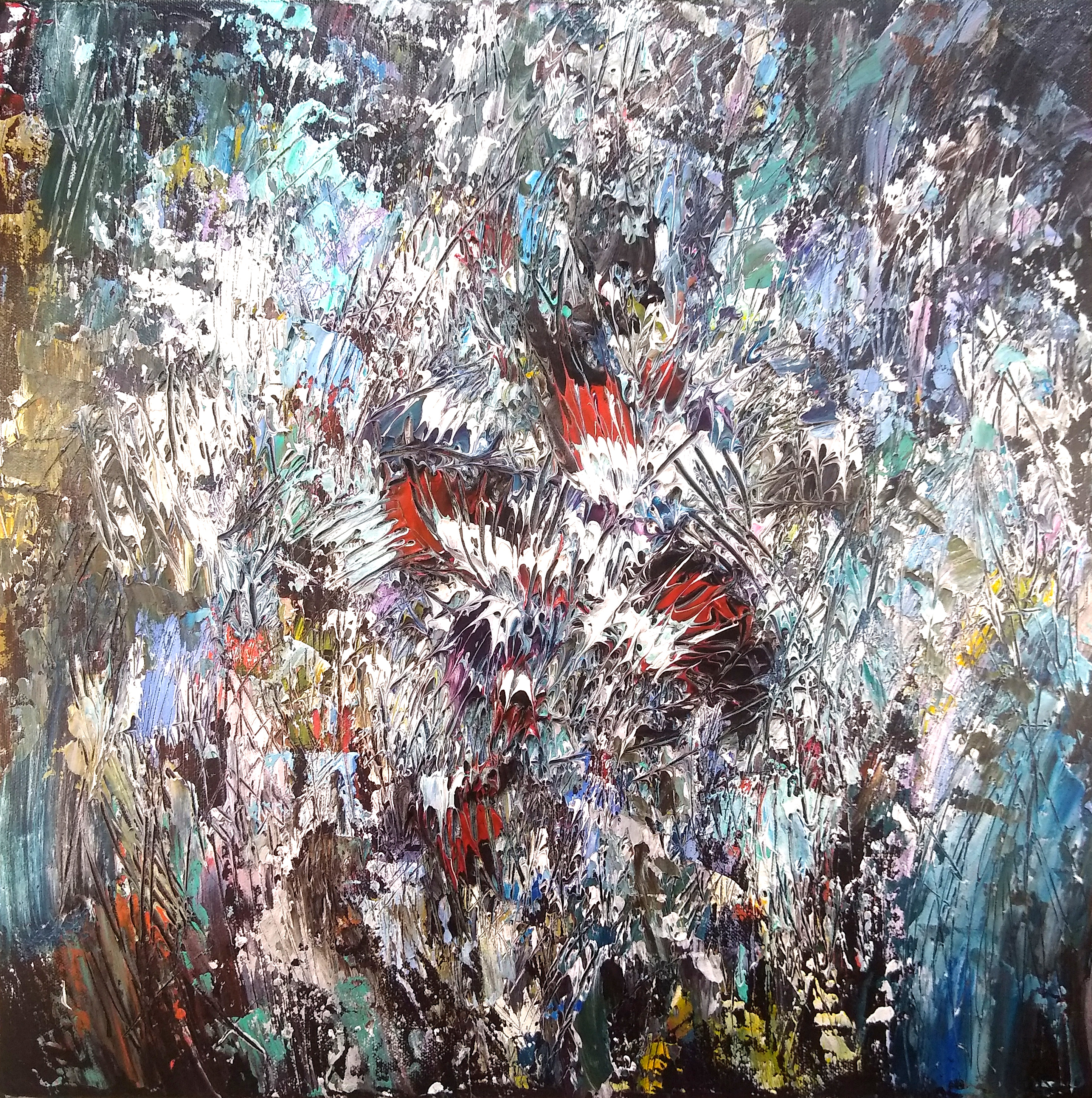 About the artist
David O'Toole works with glass microspheres mixed into acrylic artist colors, creating abstract paintings through a Gestalt process that is at once improvisational and constructive. With various stainless steel blades, he mixes, spreads, smears, scrapes, dots, and dollops his paint onto the canvas, building up many layers until the image has acquired a Gestalt: a presence that is uniquely "other" than the sum of its parts. David strives to use the Gestalt principles of visual perception to create paintings that play to the viewer's imagination. He was born and raised in Northborough, where he continues to reside.
What are glass microspheres?
Made from borosilicate glass in various sizes and configurations, some microspheres are hollow and translucent, while others are semi-solid and opaque. Most of the paintings in this exhibit use both kinds of microsphere mixed throughout the paint, including Poraver™ recycled expanded glass microspheres made from post-consumer glass waste.
Why can't I see the microspheres?
They are extremely tiny and thus difficult to see with the naked eye. The microspheres I use range between 30 and 125 microns in diameter. (There are 1000 microns in a millimeter.) Despite this, their overall effect on the painting is seen
throughout, because the microspheres are thoroughly mixed with all the colors.
What do they actually do?
When added to acrylic artist colors and media, microspheres increase volume and viscosity, enhance color blending, extend drying time, and create a variety of textured surfaces. When microspheres are combined with microfibers, polymer granules, or other materials such as crushed pumice, they can achieve unique textures and extraordinary working characteristics.
How does it work?
Glass and ceramic microspheres increase the overall volume of paint by displacement. The microspheres become coated with pigments, which intermingle as different colored spheres make contact and roll past one another like millions of tiny lubricated ball bearings. Being distributed across the spheres' surfaces, the pigment now occupies a larger visible area.
Email: deeteeoh1138@gmail.com for more information.
---